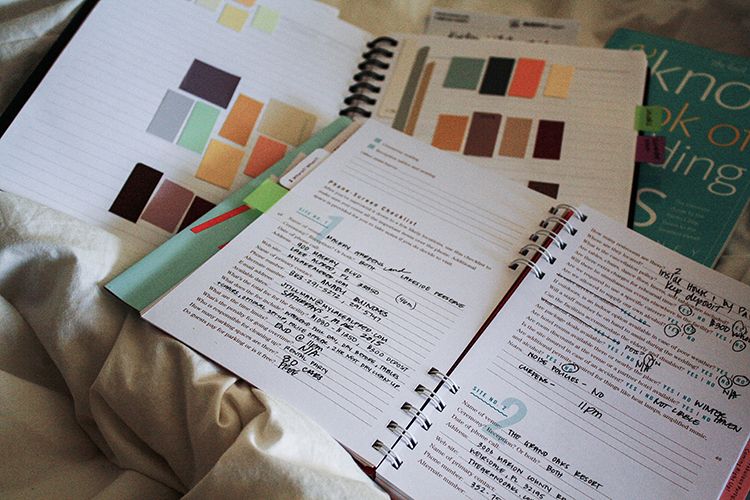 Since our engagement in November, I have been furiously (but happily) planning away for our perfect wedding. Not 24 hours passed after I said yes that Tyler and I drove to Barnes & Noble so that I could peruse the wedding planning section. Since, I've been spending my days off making timelines, color schemes, collecting addresses and contacting vendors. The most important thing for me was to enjoy this process. The following tools have made the process so much easier for us...
Above: Notebooks and books I've found helpful with planning.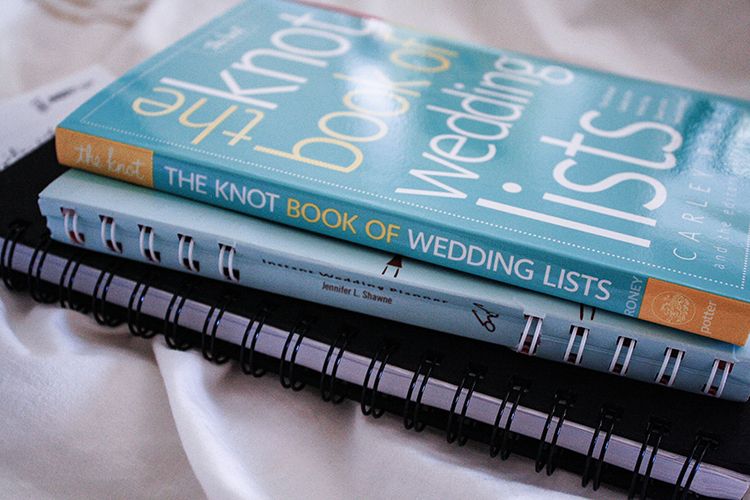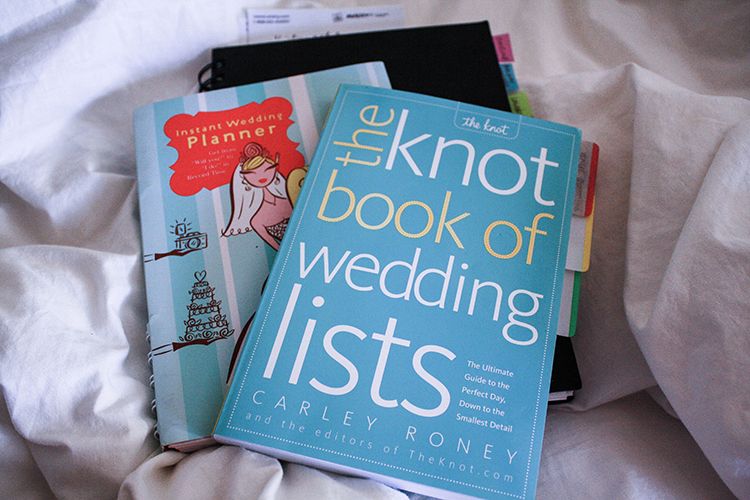 Planning Tools:
A Big Notebook
I am an avid note taker, so I knew immediately I would need a place to put all of our ideas throughout this process. The first thing I did was create a timeline wherein I detailed everything from when to collect addresses to when we can take a vacation. Subsequent pages hold receipts that we've paid our vendors, including a payment schedule, as well as paint chips for color schemes we were thinking of employing for the wedding. It has been the best way for me to see things at a glance and have everything in one place.

The Knot Book of Wedding Lists
The lists in this book have proven invaluable. Everything from how much alcohol you need to buy for an open bar if you plan on purchasing it yourself (which saves a lot of money) to how to word your invitations. I've bookmarked pages to make it easier to reference back when the time comes to use the information.

Instant Wedding Planner
From what I understand, this book was written for brides planning their wedding with eight months or less to go. With almost double the time on our side, I've still found this book super helpful mostly for its pre-made forms you can fill out with things like information on your venues and what wines you would like to purchase.

My Tablet
My Windows Surface may be the best Black Friday purchase I've ever made - and so timely too! I can take this thing everywhere (like Starbucks, obv) to work on spreadsheets (I've made so many spreadsheets) and other wedding (and non-wedding) things. I love it. I can't imagine being without it!

Pinterest
No explanation needed.

So far the planning process has been an incredibly enjoyable one. I've enjoyed most doing everything with Tyler. Picking our colors, visiting our venues, even going to bridal shows. He has been so supportive and shares the responsibilities with me. I can't imagine doing this without him and I'm thankful I don't have to.


xo,
Kristine