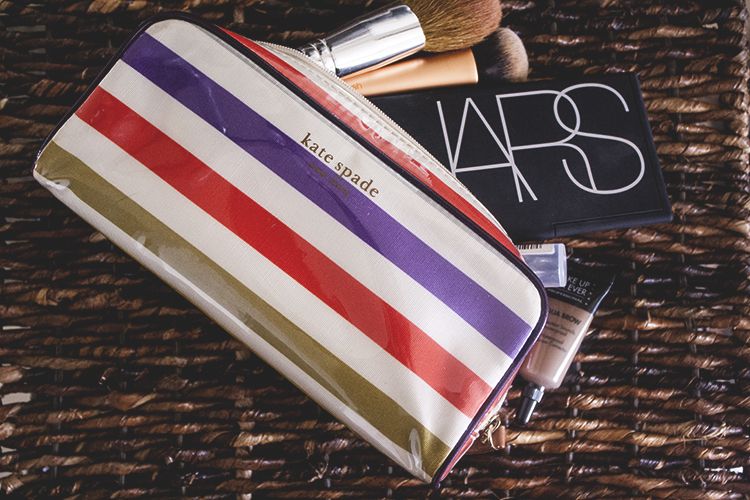 If you've been reading along, you'll know that I have this (crazy) idea that I can travel with just a carry-on for our trip to Chicago. As a serial overpacker, I'm not sure why I thought this would be possible but for the obvious benefits - saving money by not checking bags, no lost luggage, simplifying and practicing my weak and mostly improvised organizational skills, etc. - I thought I should give it a try.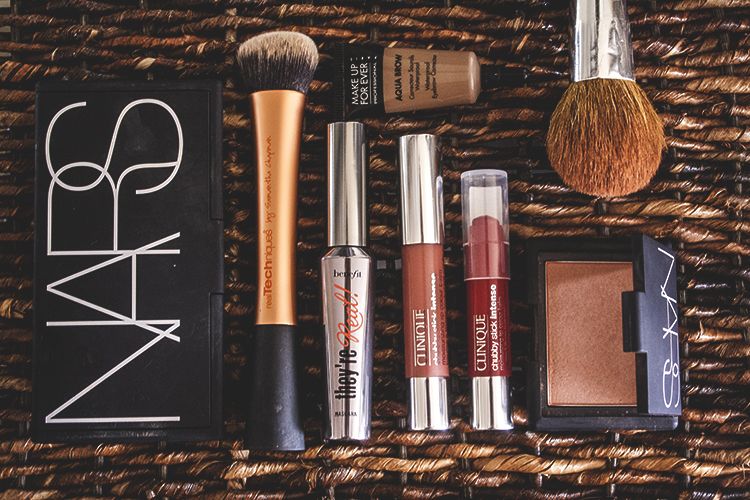 Simplifying My Beauty Routine
The first and most invaluable step in this endeavor is to simplify my bulky beauty routine. When I'm inclined (never in the morning and mostly for events at which I know there will be a gratuitous amount of photos) my makeup routine can include full coverage foundation, concealer, bronzer, blush, eyeshadow, liner, lashes, mascara, lipstick, brow definer... No. Just so much no.

I've been doing a pretty satisfactory simple routine as of late - foundation, blush, lipstick, mascara and brow definer - and this is the one I will take with me to Chicago. There are a few reasons for this, the obvious being that it doesnt require much product (yay for saving space!) and the other being that at 26, I'm learning to appreciate my face rather than wanting to cover it. That's a separate post in itself (duly noted) but it's the happy truth. The result is fresh glowing skin, enhanced rather than camouflaged.
L-R:

Nars Radiant Cream Compact Foundation
My favorite foundation brush - Real Techniques Expert Face Brush
Benefit They're Real Mascara
Makeup Forever Aqua Brow #15
Clinique Chubby Stick Intense in Curviest Caramel and Mightiest Maraschino
Nars Blush in Madly
Bare Escentuals Flawless Face Brush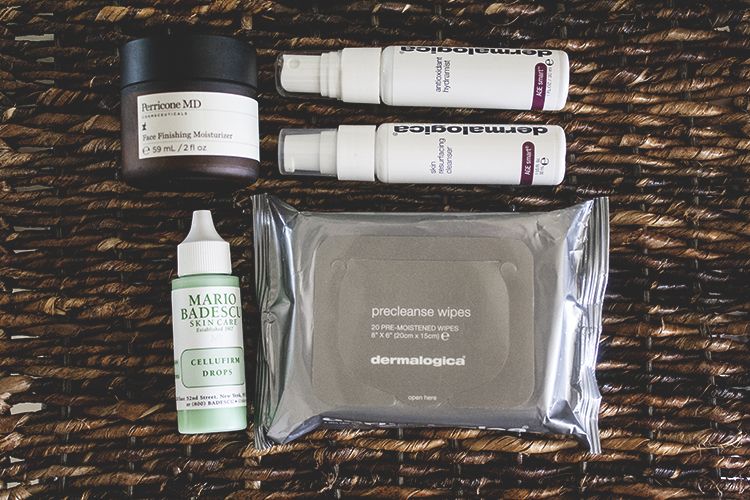 Picking My Skincare Favorites
I'll have to make a point to photograph my irrational collection of skincare products so you can understand the obsession I have with trying new things. My strategy for this trip was to pick up a few travel sized portions of my tried and true favorites. Multi-tasking products are the way to go, like a cleanser that exfoliates and a moisturizer light enough for day but buildable for night. This way, I won't feel like something is missing from my considerably downsized routine. Also awesome? Dermalogica now makes my favorite makeup remover in wipes! I swear that damn liquid rule will be my undoing.

Of all the cleansers I've tried, I've always been pleased with Dermalogica products and the Age-Smart line in particular. The cleanser is a cream cleanser that exfoliates just enough to remove dull skin but not make it irritated or sensitive. The matching toner is one of my favorites. For my moisturizer, I went with Perricone MD's Face Finishing Moisturizer which for my skin isn't quite moisturizing enough - so perfect for day or as a primer. I couldn't very well go to ULTA and buy only the things that I needed so I also picked up Mario Badescu's Cellufirm Drops in order to boost my moisturizer at night.

Perricone MD Face Finishing Moisturizer
Dermalogica Skin Resurfacing Cleanser
Dermalogica Antioxidant Hydramist
Mario Badescu Cellufirm Drops
Dermalogica Precleanse Wipes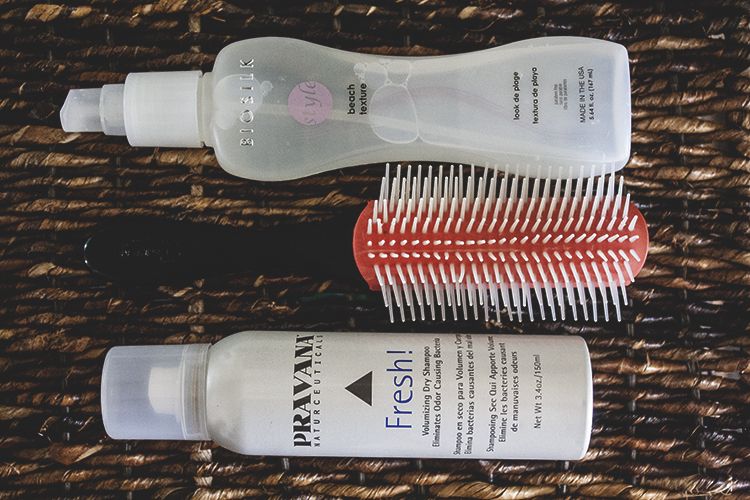 Minimalist Hair Care
Since we will only be in Chicago for four days, I don't plan on washing my hair. I may or may not, but definitely have, thrown any semblance of acceptable hair-hygiene away under the guise of beachy, unkempt hair being "in." Full disclosure, I've managed not to wash my hair for two weeks and still went out in public, so four days should really be a cake walk for me. That being said, my hair does need maintenance during my marathons so I do plan to take along my favorite dry shampoo and a beach spray. To keep my hair from looking like a gnarled mess, I try to comb and french braid it nightly before bed. I comb it out in the morning and spray dry shampoo on my roots and beach spray on my ends. Voila, I can fit right in with all the clean-haired ladies.

My favorite beach spray is Biosilk's Beach Texture. Kind of hard to find in retail stores but so worth the search. Strong enough to encourage wave, but dries softly so your hair isn't left with crunchy sea-dreads. As for dry shampoo, I stick with Pravana's for now. I like that it doesn't make my hair feel dirty which is the case with brands like Big Sexy, Batiste, Tresamme, Psssst....I've tried them all and just trust me, this is so much better. It's light enough to double as a texture spray as well so I'll just be bringing this along for the trip.


So there you have it...
...the products that will get me through the trip! I think if Tyler did this post it would literally be a picture of deodorant and contact solution.


xo
Kristine
Biosilk Beach Texture
Denman Brush
Pravana Fresh! Dry Shampoo